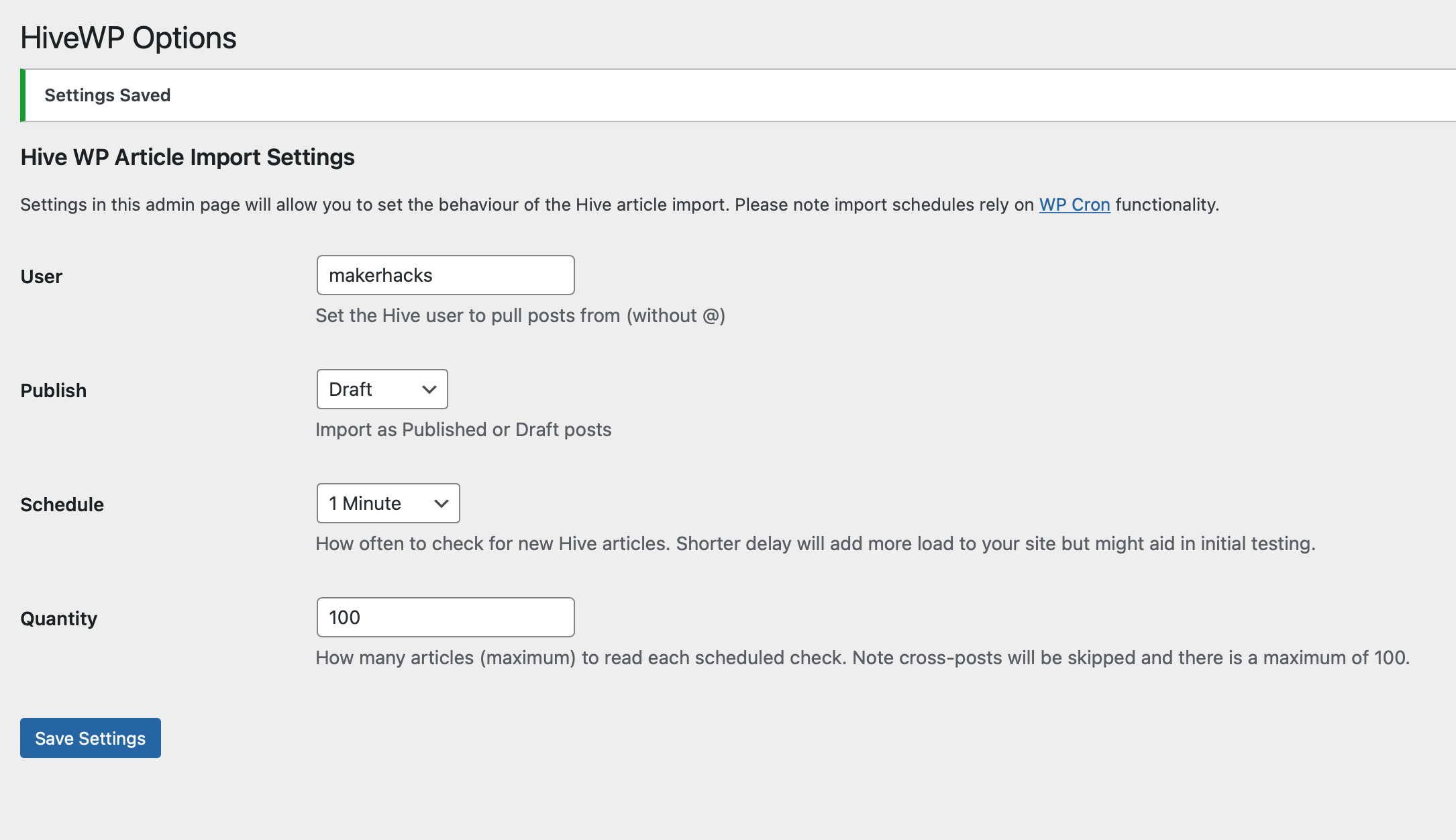 As mentioned I have a roadmap of sorts, and to begin it will mainly be adding more settings to the main WordPress plugin, which imports your Hive articles into your WordPress site on a set schedule.
The latest version allows you to set how many articles to read, and how often, plus you can select if you want to import them as Draft or Publish right away.
My suggestion would be to import up to the maximum of 100 and with a quick schedule the first time you run the plugin, and then afterward set it to draft and daily with way fewer articles to read subsequently.
Note though that it automatically ignores "cross-post" notifications (they are literally blog posts with the content simply saying it is a cross-post) so as to not clutter up your WordPress site. This will mean you will likely not import 100 articles after checking 100 if that is a feature you use often.
If you would like to test out the plugin, keeping in mind this is pre-alpha quality, let me know. I'm not charging anything right now, I will keep an eye on how much effort it takes to improve/maintain and how popular it becomes, for now it is not too much of a hassle to code and therefore my gift to the community 🙂
Aside for WordPress Developers
During testing I found I needed to check that my scheduled tasks were scheduled or changed correctly.
The way that WordPress works is it has a "cron", but not the cron linux users will be familiar with.
Unless you have your hosting set up a certain way, this relies on the website getting views, it is kind of a "on page load also check there are scheduled tasks" kind of deal.
I found a great plugin called WP Crontrol (get it?) that gives you a visual table of upcoming scheduled tasks – very helpful.